Wat is het nut van WiFi op je wasmachine?
#Apps en meer

,
#Tech in het huishouden

,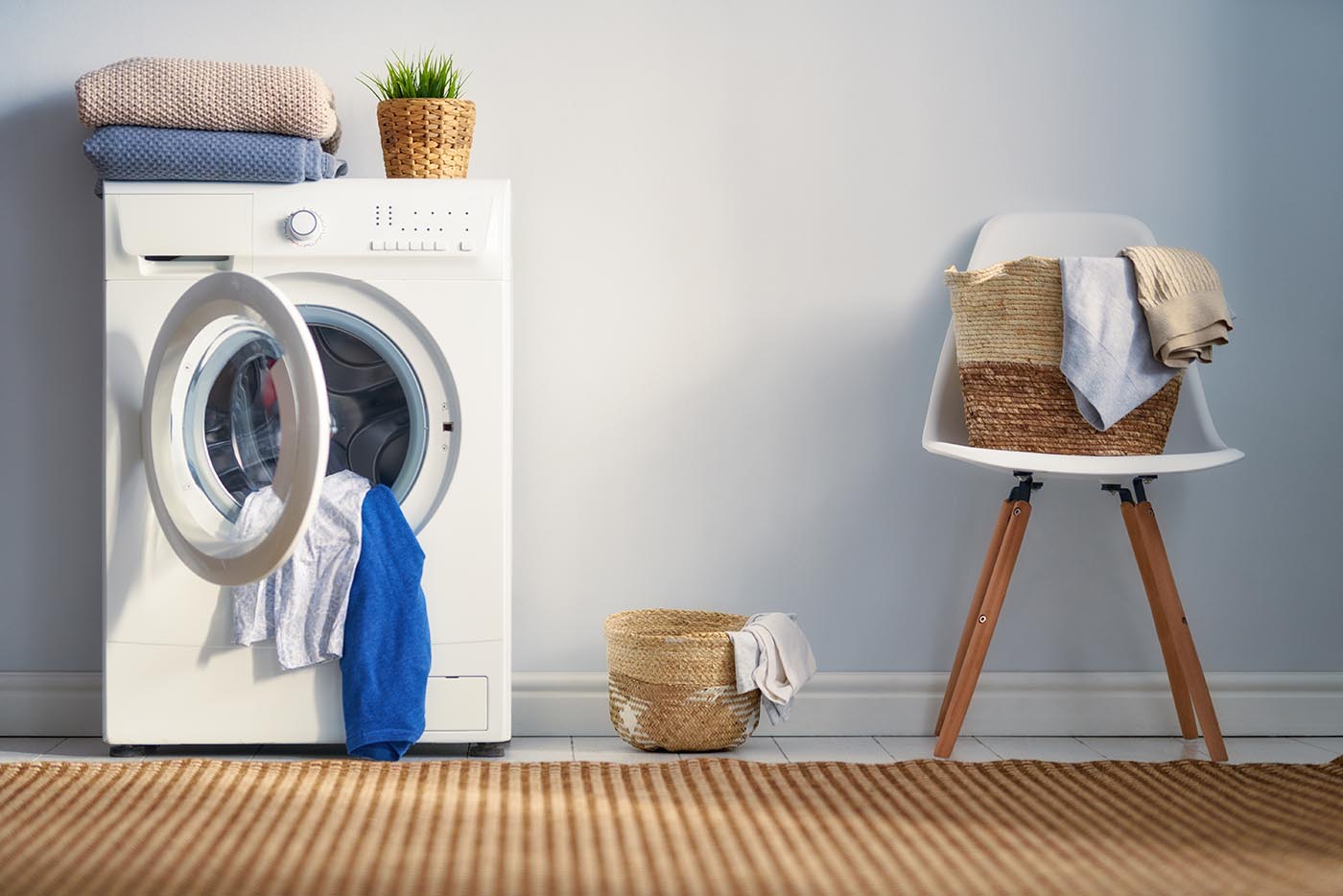 Onze wasmachine ging kapot en omdat wij blijkbaar nogal fanatieke wasmachinegebruikers zijn – aldus de verkoper – kochten we een apparaat waar we ook best een paar nachten van in een vijfsterrenhotel hadden kunnen slapen. Overtuigd door de 7 jaar garantie en het feit dat er 8 kilo was in de machine kon, gingen we voor een Samsung wasmachine. Toen het ding werd aangesloten, vertelde de monteur dat we de wasmachine konden bedienen via de SmartThings app. Oftewel: onze wasmachine had WiFi. Mijn eerste gedachte was: "Fuck, nog meer zooi op de router, waardoor mijn MacBook nog meer problemen heeft met verbinden", mijn eerste vraag was: "En, gaat dit dan over de 2,4GHZ band of de 5?" Ik kreeg een lege blik. "Het is echt heel handig," verzekerde de monteur me. "Ik heb deze thuis ook." Ik liet de monteurs hun werk doen en ondertussen installeerde ik dan die oh-zo-handige app voor mijn wasmachine.
Het doel van WiFi op de wasmachine
Het grootste doel van internet op je wasmachine is toch wel dat je precies weet wanneer hij klaar is, je vanaf de bank je wasmachine kan pauzeren, aan kan zetten en kan zien hoe lang hij nog moet. Waar de welbekende wasmachineminuten nooit de echte minuten zijn, wil je niet hoeven rekenen wanneer de wasmachine klaar is. Helemaal niet als dat ding, net zoals bij ons, op een onmogelijke plek staat, zoals in de kelder of op zolder. Zo hoef je er niet bij te staan als je wasmachine zegt dat hij nog 2 minuten moet, maar er in werkelijkheid nog 17,5 minuut over doet.
Vaak draai ik op zaterdag zo'n 4 wasjes op een dag, het idee dat ik een melding krijg als het ding klaar is, terwijl ik boven de was opvouw óf uitgelegd krijg door de peuter waarom honden kunnen praten in Paw Patrol. Zo kan ik vliegensvlug van taak wisselen zonder dat het ook nutteloos is. "De wasmachine is klaar schat, leg me straks maar uit waarom die pup een brandweerhoed op heeft" en weg ben ik.
Heeft WiFi op je wasmachine veel meerwaarde?
Voordat we de wasmachine kochten, maakte ik grapjes over het feit dat wasmachines tegenwoordig WiFi hebben. Wat een nutteloos iets, dus. Als je naar een wasmachine kijkt, wil je niet ook nog beslissen of het handig is dat dat ding WiFi heeft of niet. Ik zou de beslissing van WiFi op je wasmachine niet al te zwaar laten meewegen. Zolang je wasmachine geen pootjes heeft om de was in te laden en vervolgens zelf in de droger en dan in je kast te leggen, is het vooral een leuke gadget voor de nerds en de show-offs onder ons.
Welke leuke dingen je nog meer kan met internet op je wasmachine
We leven in een internet of things periode. Er is nog net geen WiFi-halsband voor mijn kat, zodat ik te allen tijde kan zien waar ze nu weer uithangt. We hebben thuis een Google Home die te pas en te onpas aankondigt dat ze bepaalde lampen niet kan aanzetten en soms vertelt ze uit het niets een slechte grap, waar ze zelf heel hard om moet lachen. Onze wasmachine is ondertussen vriendjes geworden met de Google Home. Want het leek Jop thuis wel leuk om Google Home de lampen te laten knipperen op het moment dat de wasmachine klaar is.
Je kan je voorstellen dat de eerste keer dat ik zag dat die lampen knipperden, het 's avonds laat was, ik alleen thuis was en alvast naar vriendinnen appten dat als ze me niet konden bereiken, ik vermoord was door een geest met een bijl.
De WiFi op je wasmachine kun je dus gebruiken om je partner de stuipen op het lijf te jagen – je kan er ook voor kiezen om Google Home Kleine wasjes, grote wasjes te laten zingen als de wasmachine aan is. Daarnaast weet je ook of je je partner moet herinneren dat hij de was moet doen. Zo bracht ik vorige week onze peuter naar opa en oma en trilde mijn telefoon.
De wasmachinedeur is open.
"Mama, wat is dat?"
"Papa doet de was. Fijn hè?"