Simpel en snel je ramen schoon met de Kärcher WV 1 Plus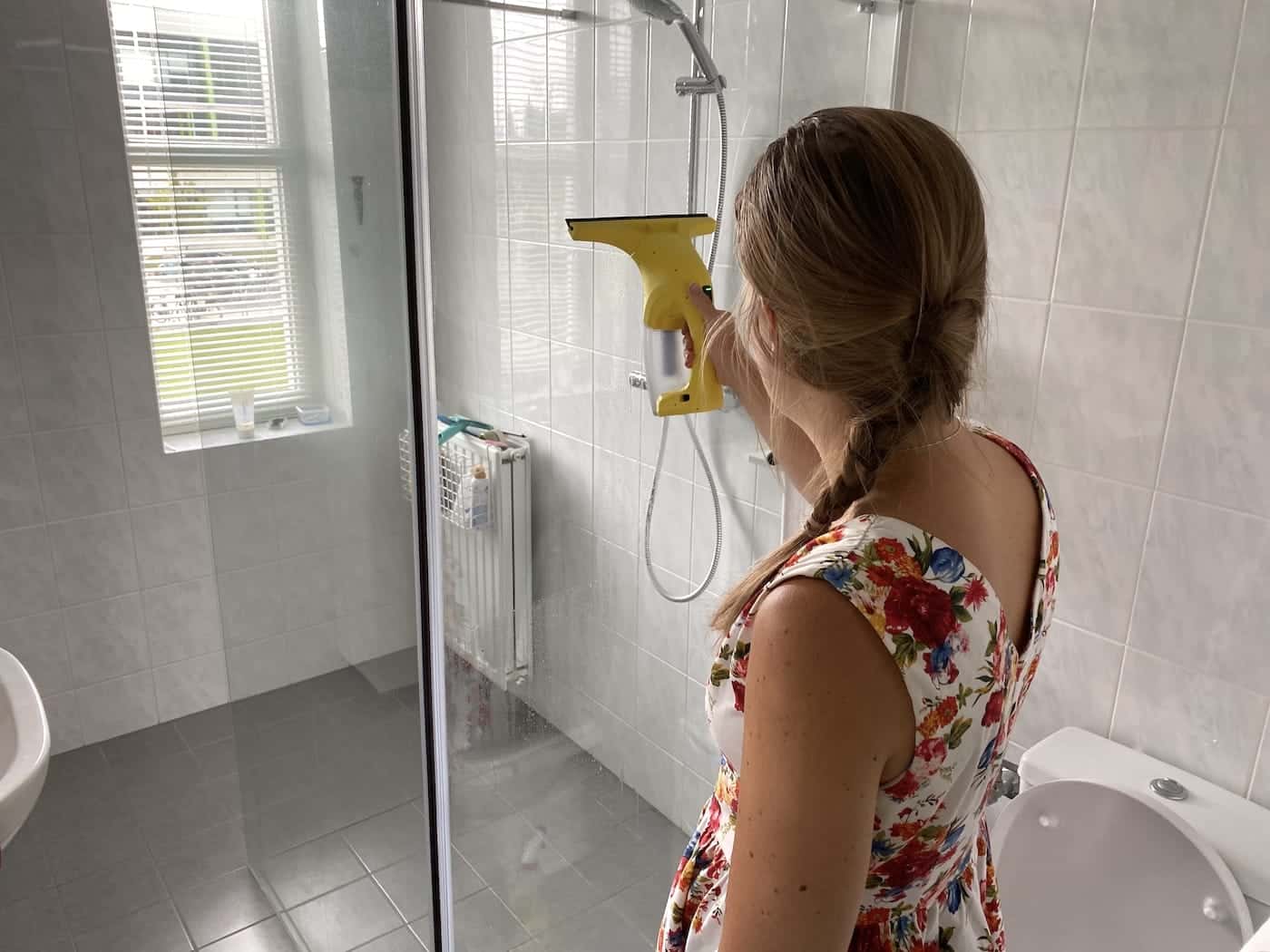 Tijdens onze vakantie kwamen we in de Lidl in Oostenrijk de Kärcher WV 1 Plus tegen voor € 44,99. Dat is wel een stukje duurder dan een simpele raamwisser, maar bij Bol.com betaal je alsnog € 51,95 voor hetzelfde apparaat. Toch wel een leuke aanbieding dus. En impulsief als we vaak op vakantie zijn, moest deze Kärcher raamwisser dus mee naar huis.
Ik heb zelf een hekel, maar dan ook echt, aan schoonmaken. Voorheen had ik altijd een schoonmaakster, maar die heb ik wegens omstandigheden ontslagen. Nu moet ik het weer zelf doen, dus dan maak ik het liever gemakkelijk. Deze raamschoonmaakset moet daarbij gaan helpen. Ik heb zelf een hoekhuis, dus extra ramen aan de zijkant. En twee glazen douchewanden die ook regelmatig schoongemaakt moeten worden. Aardig wat werk om alles zelf schoon te maken. Gelukkig heb ik voor de buitenkant wel een glazenwasser.
Doosinhoud en technische specificaties
Dit zou de Techkoningin niet zijn als we niet eerst met wat technische specificiaties komen. De doos bevat naast de raamwisser ook nog een schoonmaakset inclusief sproeifles. Daarnaast een oplader voor de wisser en een proefzakje schoonmaakmiddel. Welkom in 2020, waar je naast je boeken en je planten ook je raamwisser op moet laden.
Kärcher belooft op de doos dat schoonmaken drie keer sneller gaat dan op de normale manier. Ook zouden er geen strepen achter moeten blijven en geen druppeltjes. Met een volle accu kun je 25 minuten ramenwissen, ofwel een oppervlakte van 70m2 schoonmaken.
Je kunt de raamwisser niet alleen op ramen gebruiken, maar ook op douchetegels, spiegels, glazen tafels en andere gladde objecten.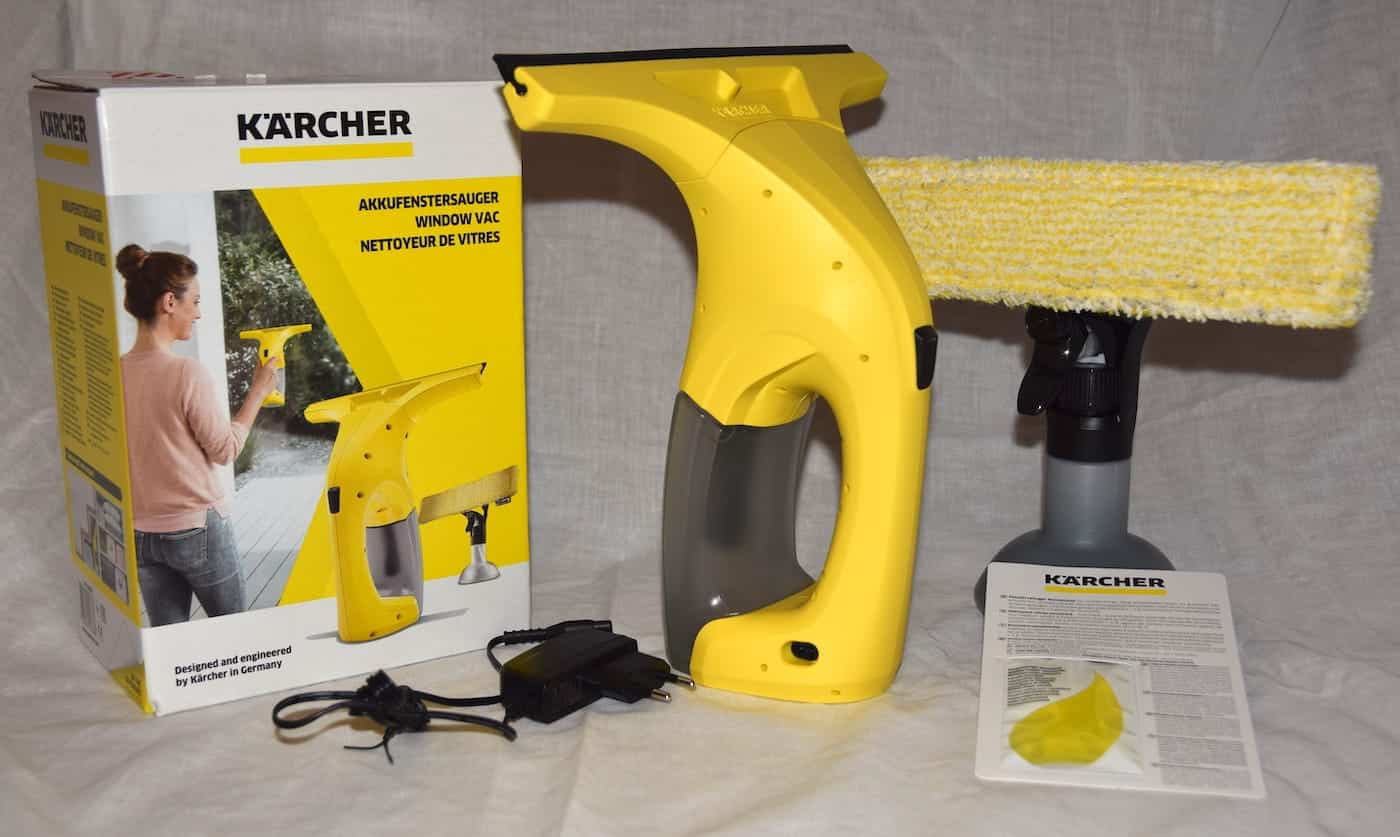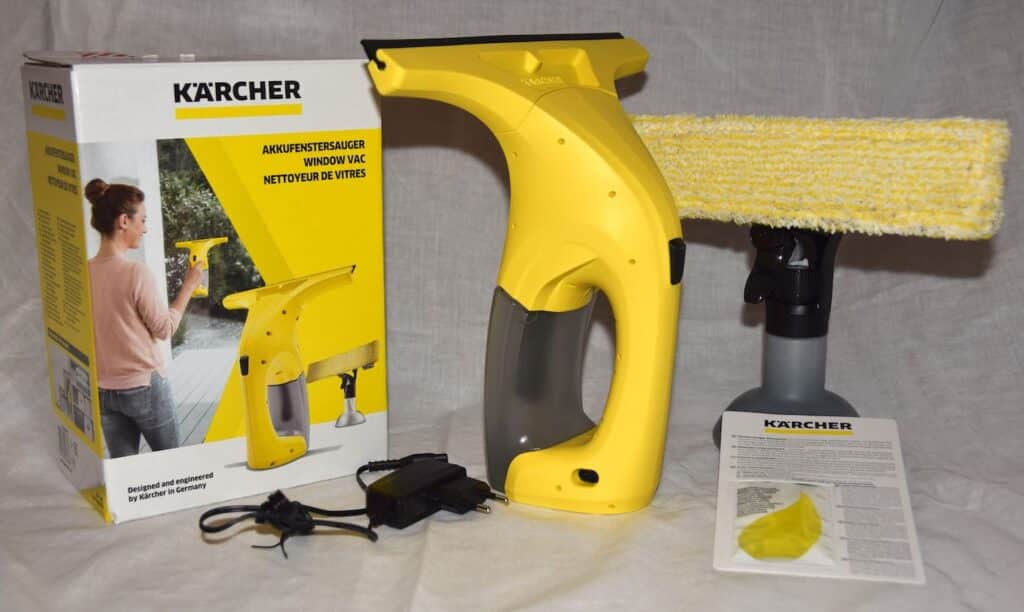 Aan de slag met de Kärcher WV 1 Plus
Het schoonmaken van je ruiten (of je douchewand, of je tafel) gaat simpel in twee stappen: je begint met poetsen en vervolgens droog je het schoon. Poetsen doe je met de bijgeleverde sproeifles. De sproeier zit als handvat bevestigd aan een schoonmaakkop, waar met een soort klittenband een schoonmaakdoek vast zit. Geen gedoe met emmers met sop, je schoonmaakmiddel heb je gewoon bij de hand.
Is het oppervlak schoon, dan pak je de raamwisser erbij. Deze zet je aan en je haalt de wisser over het natte oppervlak. De wisser zuigt alle waterdruppeltjes op en vangt deze op in het reservoir.
De voor- en nadelen bij het gebruik
Het klinkt allemaal heel goed en makkelijk, maar is dat werkelijk ook zo? Ik probeerde het direct uit op mijn douchewand. Het schoonmaken met het sproeiflesje en schoonmaakdoekje in één ging erg gemakkelijk. Echter merkte ik wel dat het flesje erg vatbaar is voor lekken als je deze niet goed dichtdraait. Zeker als je, zoals ik, alle kanten op zeemt en het flesje dus niet rechtop houdt.
Toen kwam het echte werk: langzaam haalde ik de trekker over het natte oppervlak. Zou het echt zo makkelijk zijn? En warempel, alles was netjes droog en streeploos. Ik probeerde het wat sneller om te kijken of het dan nog steeds goed ging. En jawel, al het water werd keurig opgezogen.
Volgende uitdaging: de badkamertegels. Met voegen. Na een snelle schoonmaakbeurt haalde ik de raamzuiger over de tegels. Ook dat ging verrassend goed. Alleen liep ik toen wel tegen een ander probleem aan: het waterreservoir was vol. Deze moest eerst geleegd worden om weer verder te gaan. Dat was in de badkamer gelukkig snel gebeurd, maar het viel me wel een beetje tegen hoe weinig water er eigenlijk maar in dit reservoir past.
Conclusie
De Kärcher WV 1 Plus bevalt mij goed. Het schoonmaken gaat merkbaar sneller en dat is erg fijn, zeker als je schoonmaken niet zo leuk vindt. Het bijgeleverde poets- en sproeisetje is erg handig. Hierdoor hoef je geen emmer en doekjes meer mee te slepen. Een extra droogdoekje is misschien nog wel handig, want knoeien gebeurt altijd wel eens. Wat ik daarnaast nog extra fijn vind, is dat je niet zoveel kracht hoeft te zetten met de raamwisser. Met een gewone trekker moet ik voor een streeploos resultaat harder duwen dan met de Kärcher, die je simpelweg over het oppervlak 'aait'.
Wel jammer is dat de raamzuiger maar een klein reservoir heeft die je regelmatig moet legen. Ook is het bakje voor schoonmaakvloeistof gevoelig voor lekken als je deze niet strak genoeg dicht hebt gedraaid. Met een volle accu kun je de zuiger 25 minuten gebruiken, wat eigenlijk net niet voldoende is voor mijn hele huis. Maar misschien is dit een voordeel, want dan ben ik niet de hele middag kwijt aan ramen schoonmaken.
Ook enthousiast geworden om aan de slag te gaan? Je koopt de Kärcher WV 1 Plus nu voor € 51,95 bij Bol.com!