Negatieven digitaliseren met de Epson Perfection V600 Photo
#Apps en meer

,
#Tech in het huishouden

,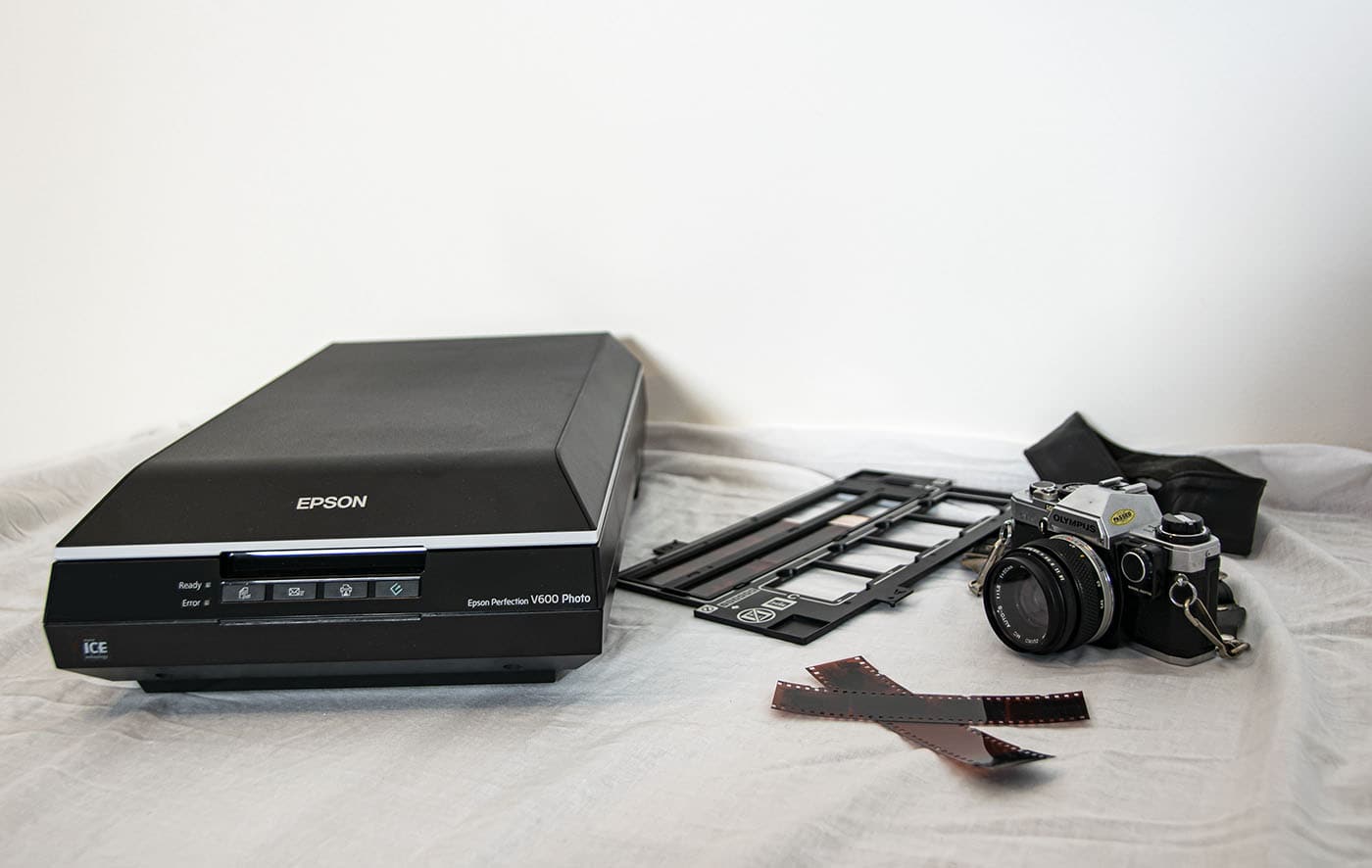 Tegenwoordig fotograferen we er op los. Al onze telefoons hebben camera's en alsof dat nog niet genoeg is sleep ik elke vakantie nog minstens twee extra camera's met me mee. Ik vind foto's en fotograferen erg leuk. Na de vakantie ben ik urenlang zoet met nabewerken, maar omdat alle foto's digitaal zijn gaat dat prima. Dat was vroeger wel anders.
Vroeger, toen ik nog een klein meisje was, fotografeerden mijn ouders nog met camera's met fotorolletjes. Logisch ook, de digitale camera was toen nog niet uitgevonden. In je fotocamera ging een fotorolletje, vaak met 24 of 36 foto's. Was het rolletje vol, dan leverde je deze bij de supermarkt, drogist of fotozaak. Een week later haalde je deze weer op en kreeg je de afgedrukte foto's en de strookjes negatieven weer mee naar huis. Wilde je meer foto's, dan kon je met de negatieven de foto's nogmaals laten afdrukken.
Mijn ouders hebben alle negatieven van vroeger altijd goed bewaard in een map met speciale negatieveninsteekhoesjes. Onlangs besloot ik dat ik deze negatieven wilde digitaliseren, zodat ik alle foto's van vroeger kan toevoegen aan mijn digitale verzameling van foto's (die uiteraard keurig geback-upt worden).
De juiste scanner voor een leuk bedrag
Nadat ik besloten had dat ik de negatieven wilde digitaliseren, begon mijn zoektocht naar de juiste scanner hiervoor. Prijzen op internet varieerden tussen de € 10 en € 2500, wat ervoor zorgde dat ik eerst flink research moest doen om de juiste scanner te vinden die kwaliteit bood voor een leuk bedrag. Op Marktplaats vond ik diverse goedkope aanbiedingen, maar volgens reviews was de kwaliteit om te huilen. Daarnaast heb ik meer dan duizend negatieven om in te scannen, dus elk negatief los in een houdertje stoppen en met de hand verschuiven om elk beeld in te kunnen scannen was al snel een no-go.
Uiteindelijk kwam ik uit op de Epson Perfection V600 Photo. Voor € 280,- niet al té duur, maar wel genoeg kwaliteit. Daarnaast biedt Epson een Digital ICE Technology, wat automatisch stofjes en krassen verwijdert uit de scans. Hierdoor duurt het scannen echter wel langer.
Wat er wordt geleverd met de Epson Perfection V600 Photo
De Epson Perfection V600 Photo wordt geleverd als totaalscanner met een afneembare witte plaat aan de binnenkant. Wanneer je deze plaat eruit haalt, komt er aan de binnenkant in het deksel een spiegel tevoorschijn die het mogelijk maakt om negatieven en dia's te scannen. Ook wordt er een houder bijgeleverd waar je de negatieven in kunt klemmen zodat ze altijd recht onder de scanner liggen. In de houder is ruimte voor twee negatievenstroken met zes foto's. De scanner knipt automatisch de foto's op, dus je hoeft de houder tussen het scannen door niet te verplaatsen.
De Epson Perfection V600 Photo komt met bijgeleverde software op CD-Rom. Gelukkig is de software ook te downloaden van de website, want ik heb al jaren geen CD-Rom drive meer. Nadat de software geïnstalleerd is kun je aan de slag. In de instellingen kun je instellen hoe groot je de foto's wilt hebben, wat de kwaliteit moet zijn en of er nabewerking middels Digital ICE Technology moet plaatsvinden. Met een snelle voorbeeldscan zie je precies welke negatieven er onder de scanner liggen.
Instellingen voor een goede scan
Ik heb de instellingen voor het inscannen van mijn negatieven staan op 24-bit kleuren, een resolutie van 3200 dpi met een hoge scanmodus. Ook Digital ICE Technology staat aan. De foto's worden opgeslagen als JPEG. Met deze instellingen duurt het scannen van twee negatievenstrookjes (totaal acht foto's) gemiddeld een 30-40 minuten. Maak je geen gebruik van de Digital ICE Technology, dan duurt de scan zo'n 20-25 minuten. Gelukkig kun je in de tussentijd gewoon andere dingen doen.
Digital ICE Technology
Het verschil in scannen met en zonder Digital ICE Technology is tijd en kwaliteit. Het duurt ongeveer twee keer zo lang om een scan met ICE te maken. Digital ICE Technology zorgt ervoor dat kleine krasjes en stofjes direct weggepoetst worden uit de gescande negatieven. De negatieven zijn immers zeer kwetsbaar voor kleine beschadigingen.
Op het eerste gezicht is er weinig verschil tussen de scans met en zonder Digital ICE Technology. Leg je de foto's over elkaar, zie je dat er toch wel veel kleine haartjes en krasjes verwijderd worden. Het verschil zie je in de foto's hieronder.
Hoe hoger je de dpi instelt, hoe groter de foto wordt. De instelling van 3200 dpi is voor mij voldoende. Gemiddeld zijn de foto's hiermee 1,6 MB groot en hebben een afmeting van 4427 x 2795 pixels.
Kwaliteit van de scanner en de scans
Na het scannen hebben de foto's eigenlijk geen nabewerking meer nodig. Toch haal ik alle foto's nog even snel door Lightroom om hier en daar wat lichtinstellingen bij te stellen of een stofje weg te poetsen als ik zonder ICE gescand heb. Of het licht afwijkt door de scan of door de foto die destijds gemaakt is laat ik in het midden.
Verder is de scanner redelijk stil. Hij staat de hele dag aan op onze werkkamer en we hebben er eigenlijk weinig last van. De scanner zelf voelt stevig aan, de houdertjes voor de negatieven hadden juist wel wat steviger gemogen.
Conclusie
Verwacht voor dit geld geen kwaliteit waarmee je de foto's tot posterformaat kunt vergroten, maar verwacht wel meer kwaliteit dan een scanner voor een tientje van de Lidl. Al met al ben ik zeer tevreden over de Epson Perfection V600 Photo en ben ik blij dat ik op deze manier de hele negatievencollectie kan digitaliseren. Je moet echter wel wat tijd beschikbaar hebben, want met gemiddeld een half uur voor acht foto's ben je niet snel klaar.
Je koopt de Epson Perfection V600 Photo bij Bol.com.