Tips & Tricks voor nieuwe MacBook-gebruikers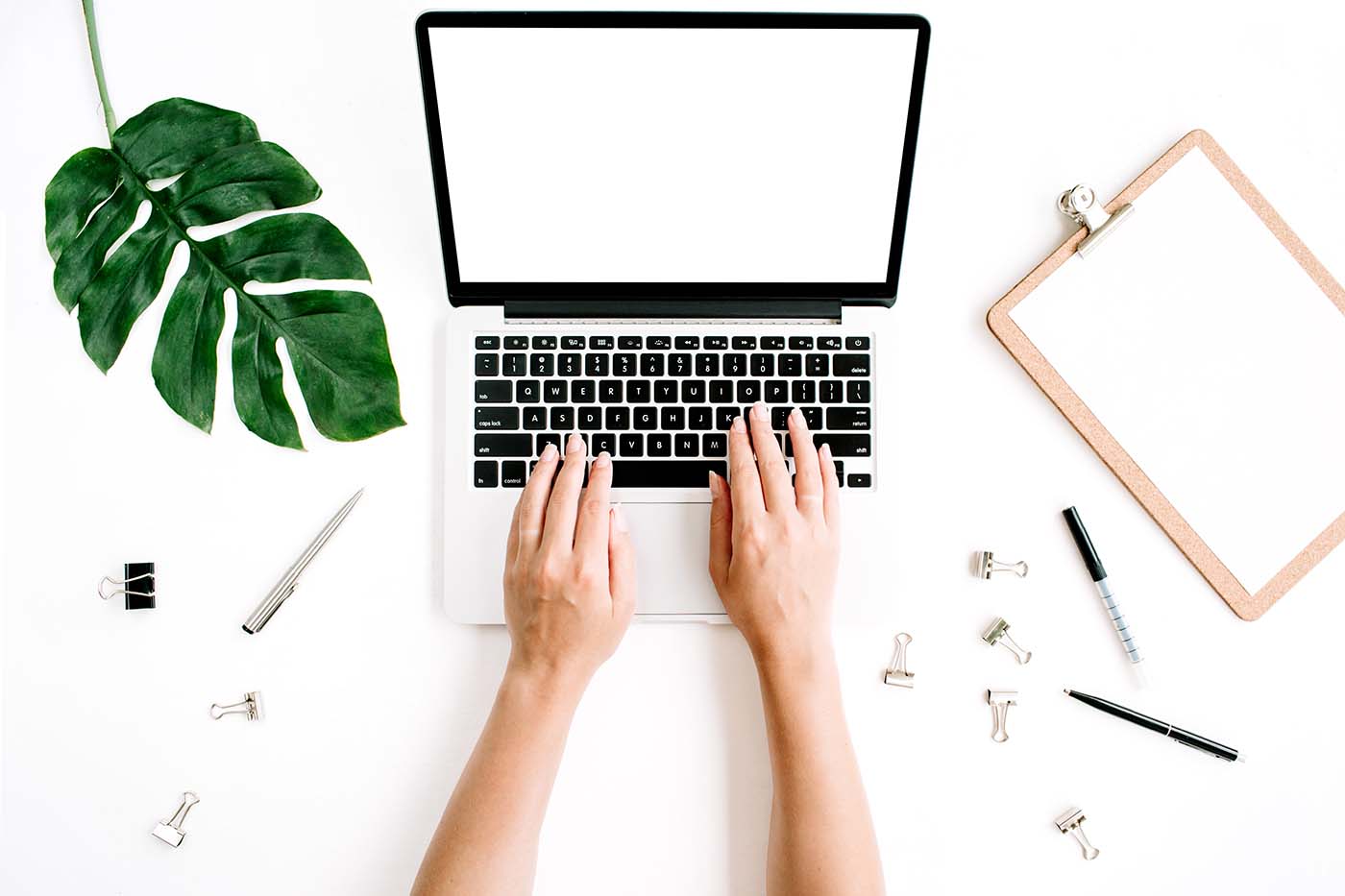 Vorige week hebben jullie kunnen lezen hoeveel moeite, frustratie en tranen het mij heeft gekost om als trouwe Windows gebruiker over te gaan op een MacBook laptop. De uitspraak "ik heb ergens op gedrukt…" heb ik meerdere keren verslagen gezucht. Nou kan ik dit voor jullie niet voorkomen, maar misschien kan ik iets meer inzicht geven in waar je wel en niet op moet drukken. Om jullie hetzelfde leed (en honderden bezoekjes aan Google) te besparen vind je hier de handigste tips, toetsenbordcombinaties en instellingen voor jouw gloednieuwe MacBook avontuur!
Hoe installeer je een systeemupdate op je MacBook?
Als je een laptop hebt die al wat ouder is, zul je mogelijk een systeemupdate nodig hebben. Je kan dit op twee manieren bekijken. De eerste manier is op je MacBook zelf. Klik hiervoor links bovenin de balk op het Apple icoontje, en klik op 'over deze Mac'.
De tweede manier is om dit te bekijken via de App Store op je MacBook. Je gaat hiervoor naar de App Store en klikt op 'Updates' in de linker zijbalk. Het kan zijn dat je MacBook (vooral als het een iets ouder model is) draait op macOS El Capitan ('15), Sierra ('16) of High Sierra ('17). Als dit het geval is zullen niet alle apps en programma's goed draaien of zelfs te installeren zijn. Zo'n update is dus echt belangrijk. Het prettigst is om de MacBook te draaien op Mojave ('18) of Catalina ('19). Heb je een MacBook model na 2012, dan kan je de Catalina update installeren. Wil je zeker weten dat je laptop deze update aan kan? Kijk dan op deze pagina van Apple, waar je ziet of jouw MacBook de update aankan
Catalina is tot op heden de nieuwste update. Om dit te installeren type je 'Catalina' in de zoekbalk van de App Store. Klik dan op 'macOS Catalina' en klik op download. Het installeren hiervan spreekt voor zich en gaat dan ook vrijwel makkelijk en vanzelf. De installatie kan wel een tijdje duren, plan hier genoeg tijd voor.
Hoe installeer je programma's op je MacBook?
Om te beginnen heb je altijd software nodig die niet standaard op je laptop staat. Dit kan een update zijn, of misschien bepaalde programma's die je nodig hebt. Laten we Google Chrome als voorbeeld nemen. Ga via Safari (onder in je Dock – zo noemen ze de onderbalk die standaard in je scherm te zien is) naar Google, en zoek 'Google Chrome Downloaden'. Het downloaden van het bestand opent een balk onderin je internetbrowser. Klik op het kleine pijltje en klik op 'Toon in Finder'. Dubbelklik op het bestand om deze te installeren. Sleep vervolgens het Google Chrome icoontje in de map om de installatie te beginnen. De rest van de installatie spreekt voor zich.
De kans bestaat dat je ineens een scherm te zien krijgt waarbij MacBook je vraagt om je gebruikersnaam en wachtwoord in te voeren. Dit is als verificatie dat jij bevoegd bent om deze wijzigingen toe te brengen aan de laptop. Dit is dus gewoon de naam en het wachtwoord dat je hebt aangemaakt voor deze laptop, waar je dus ook altijd mee inlogt tijdens het opstarten.
Fullscreen website
Als je je internetbrowser opent krijg je linksboven bolletjes te zien, met de opties minimaliseren, fullscreen en sluiten. Bij Windows staan deze knoppen aan de rechterkant. Dit lijkt allemaal heel erg voor zich te spreken, maar toch is het nog handig om te weten hoe je fullscreen weer moet sluiten. Dit gaat dus namelijk niet met de escape knop, zoals dit bij Windows gaat. Fullscreen openen en sluiten gaat het makkelijkst met de toetsencombinatie CTRL + CMD + F.
Het is namelijk ook niet altijd nodig om je browser in fullscreen te bekijken. Het nadeel van fullscreen is namelijk dat als je muis te hoog in beeld komt, MacBook een balk naar beneden laat vallen. Door de browser net groot genoeg te slepen heb je hier geen last meer van, dan staat deze balk standaard bovenaan je scherm.
Trackpad instellen op je MacBook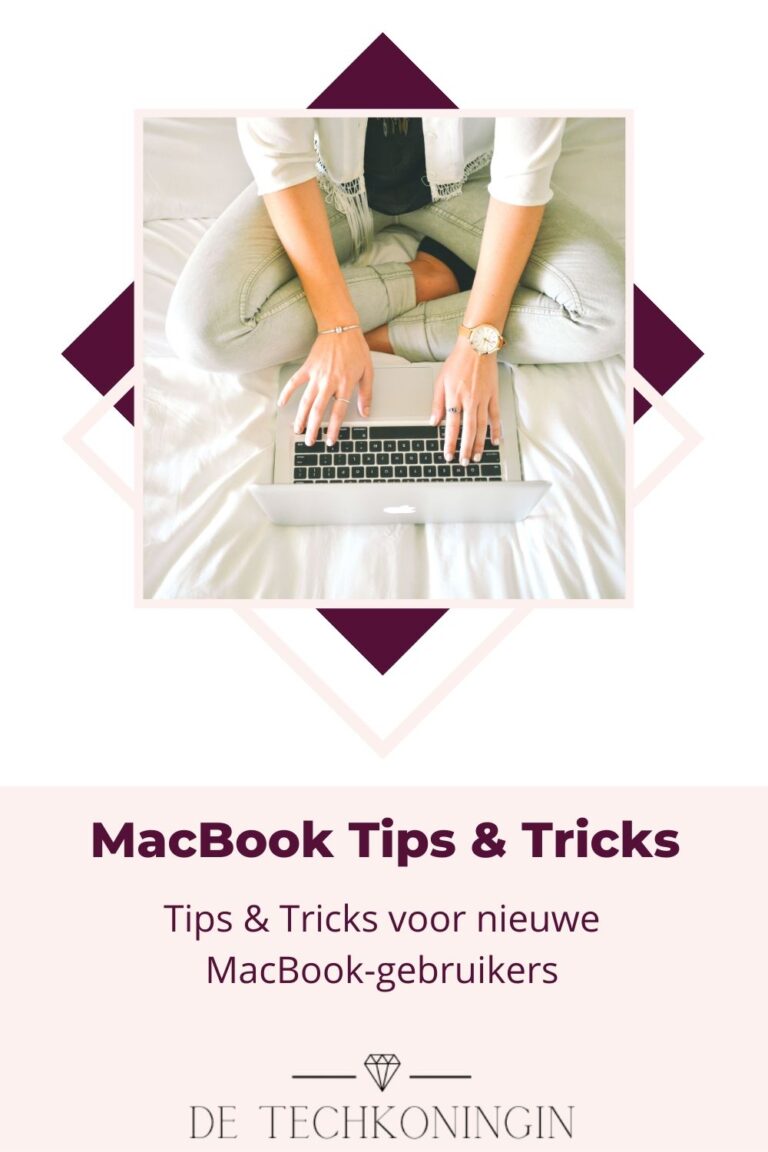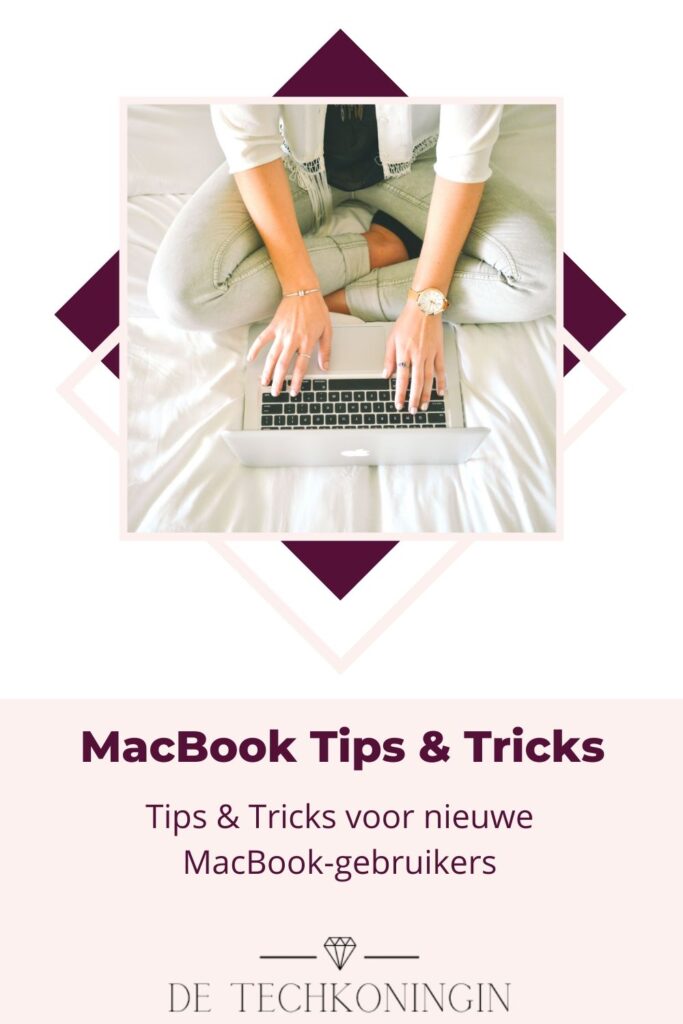 Het deel op je laptop waar je over heen scrollt en klikt, noemen ze bij de MacBook een trackpad. Windowsgebruikers zullen dit kennen als een touchpad. De trackpad van een MacBook vergt enige gewenning, aangezien de trackpad meer 'handige' functies heeft dan we van Windows gewend zijn. Windows heeft een duidelijk verschil tussen touchpad en knopjes, maar bij de MacBook is dit één vlak en ook het klikbare deel maakt onderdeel uit van het touchpad. Om dit helemaal naar wens in te stellen ga je via Systeemvoorkeuren (onder in je Dock) naar 'trackpad'.
Schuifbalken aan de zijkant van je browser standaard aanzetten op je Apple laptop
MacBook heeft het zo gemaakt dat je door middel van je trackpad kan scrollen. Dit doe je door met twee vingers over je trackpad te bewegen. Nou werkt dit niet altijd even soepel. Daarom is het ook altijd wel fijn om de schuifbalk aan de zijkant van de browser te weergeven. Om dit in te stellen ga je naar Systeemvoorkeuren, klikt op Algemeen en klikt bij 'toon schuifbalken' op 'altijd'.
Schermafbeelding maken op je MacBook
Om een schermafbeelding te maken klik je tegelijk op shift, command (de cmd toets) en 3. Het is ook mogelijk om een schermafbeelding te maken van een klein deel van je beeld, hiervoor gebruik je shift, command en 4. Hiermee krijg je een pijltje te zien, klik en sleep datgeen wat je op de foto wilt zetten.
Zit er een delete-knop op je MacBook-toetsenbord?
De deleteknop zoals Windows deze heeft ontbreekt op het MacBook toetsenbord. Dit wil niet zeggen dat de delete knop niet meer bestaat, hij is alleen ondergebracht in een toetsenbord combinatie. Om de delete knop te gebruiken klik je op de FN knop, en op de backspace knop.