De beste planten app om jouw dorre blaadjes in leven te kunnen houden
#Apps en meer

,
#Tech in het huishouden

,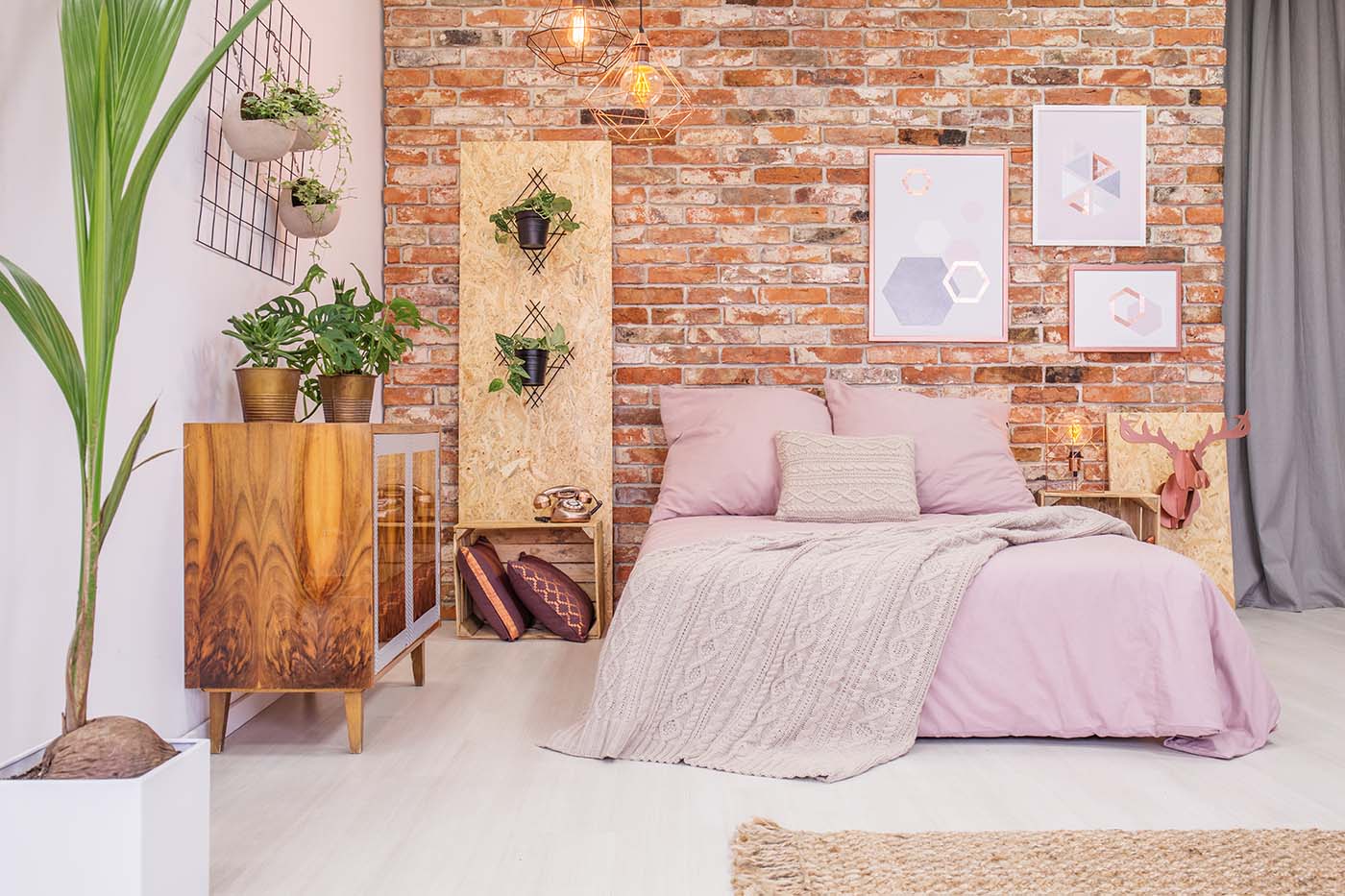 Het feit dat je op dit artikel hebt geklikt, zegt mogelijk al iets over de staat van jouw planten. Als je planten er prachtig bij staan, is dit artikel misschien niets voor jou. Maar als je op het ene moment prachtige groene plantjes hebt die staan te pronken op de vensterbank, en het volgende moment dat je weer kijkt het een triest hoopje dorre bladeren is – lees dan snel verder!
Nooit meer hoef je je af te vragen of je de plant de afgelopen weken wel water hebt gegeven. Ik heb namelijk in zowel de App Store als in de Google Play store de twee beste apps gezocht die jouw planten helpen te overleven.
Happy Plant – No Water Thirst voor Apple iOS (door SemanticJungle)
Happy plant is een gratis en simpele app voor je iPhone om je planten in leven te houden. De layout van de app is simpel, strak en overzichtelijk. Geen overbodige opvulling, maar puur dat wat je nodig hebt. Het is een Engelse app, maar de inhoud is zo makkelijk dat dit zelfs voor iemand die amper Engels spreekt, nog duidelijk is.

Je kunt op eenvoudige wijze aangeven welke planten je hebt. Allereerst mag je een foto toevoegen van je plant. Dit noemen ze een 'Plant Selfie'. De app geeft aan dat als je bij elke keer water geven een nieuwe selfie maakt, zij hier een leuke time lapse video van maken. Na het maken van de foto geef je de plant een naam, geef je aan om welke tijd je de plant water wil geven (dus hoelaat je de reminder wil instellen), en om de hoeveel dagen je de plant water wil geven*. Daarna staat je plant in de app.
* Het is dan nog wel handig om even op te zoeken om de hoeveel tijd jouw plantje water nodig heeft, en hoeveel water het nodig heeft.
Je ziet meerdere overzichten onder het kopje 'water'. Zo zie je in de bovenbalk staan hoeveel planten vandaag water moeten hebben, hoeveel planten je vergeten bent om water te geven, en wanneer de volgende dag is dat je plantjes opnieuw water nodig hebben. Zo heb je in één oogopslag duidelijk hoeveel water je ongeveer moet pakken. In het overzicht eronder zie je om welke plant het precies gaat, en over hoeveel dagen deze specifieke plant water moet hebben.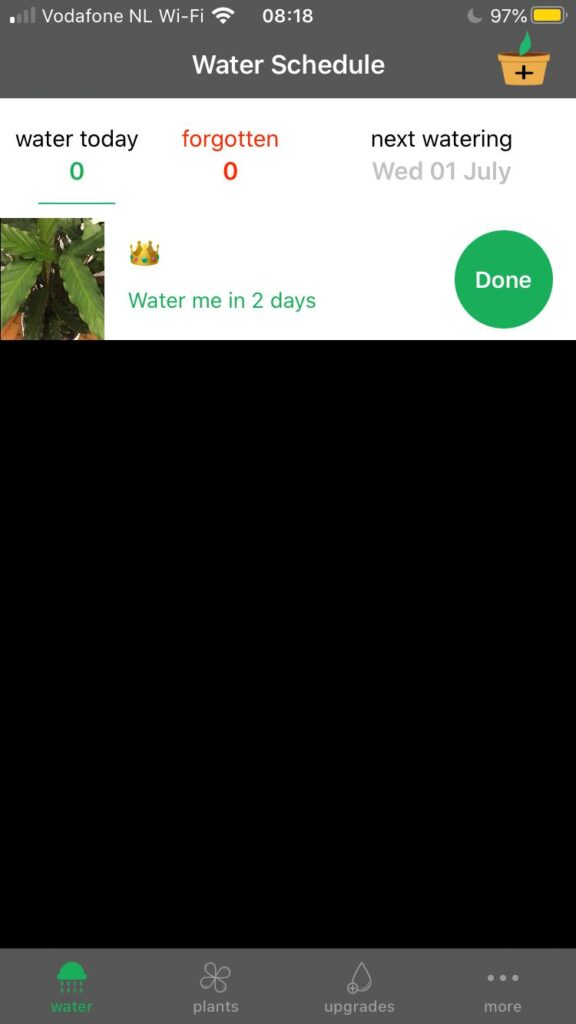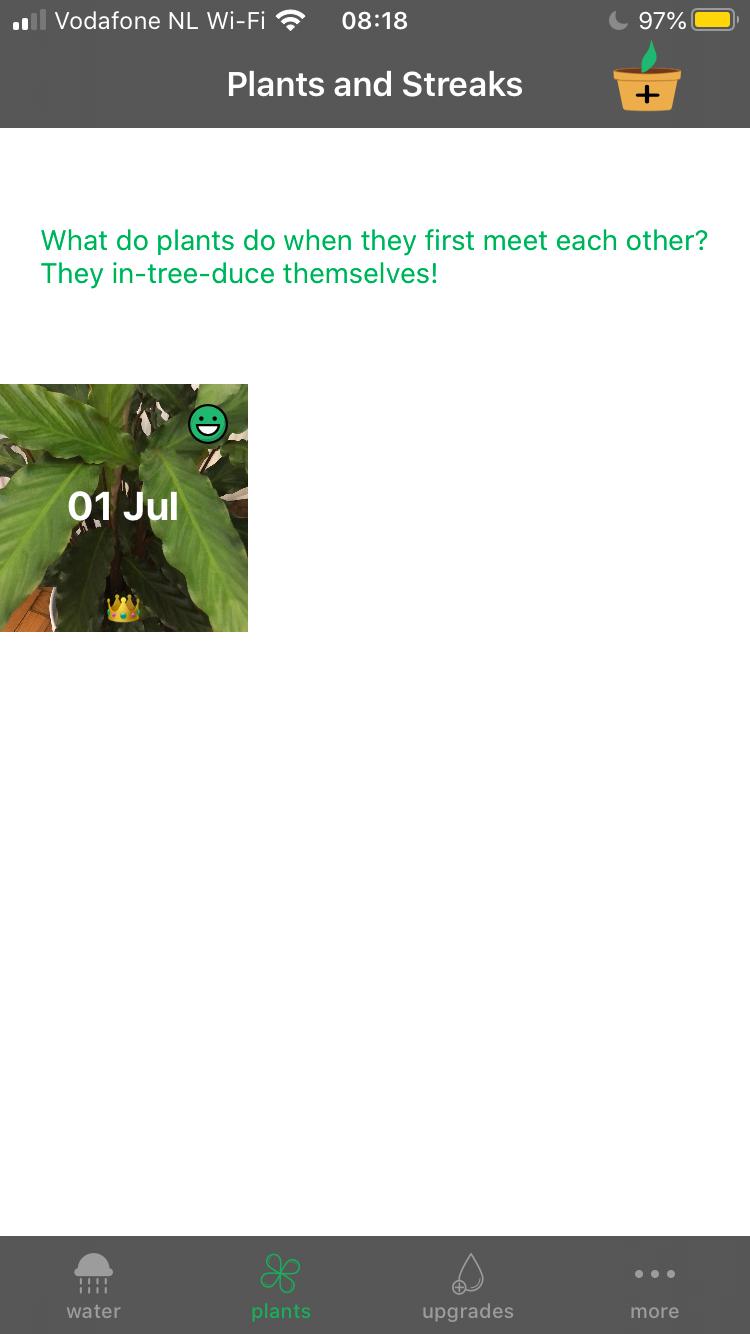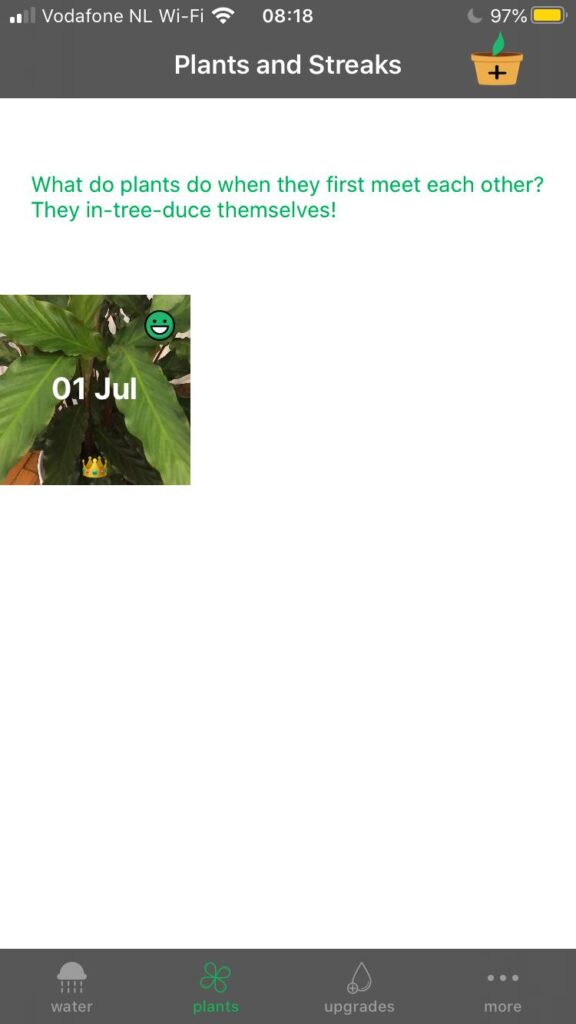 Onder het kopje "plants" zie je een overzicht van al jouw planten. Bij elke foto van jouw plantjes zie je in de bovenhoek een kleine smiley, deze geeft aan hoe happy jouw plantje is. Ook zie je hier bij elk bezoek een leuk woordgrapje, waarbij het thema planten centraal staat. Alleen om de slechte woordgrapjes zou je de app al meerdere keren per dag openen.
"How did the gardener know his herbs were fully grown? It was just about thyme!" of "Why was the gardener so embarrassed? He wet his plants!"
Het enige nadeel van deze app is dat niet alle planten mogelijk in de app geplaatst kunnen worden. Afhankelijk van hoeveel planten je hebt natuurlijk. Hier is namelijk wel een (nog onbekend) limiet op gezet. Mocht je veel planten hebben, en erg enthousiast zijn over deze app, kun je voor een eenmalig bedrag van 2,29 euro een premium account kopen. Dit is in elk geval goedkoper dan een nieuw plantje te moeten kopen!
Plant Care Reminder voor Android (door Aleksei Turbin)
Voor Android is er de gratis app Plant Care Reminder. Deze app heeft een mooie en simpele layout. Het is makkelijk in gebruik en oogt prettig door de rustige kleuren en plaatsing van elementen. De app heeft hier en daar een advertentie, maar dit is zo minimaal dat je er geen last van hebt.
Je kunt snel en eenvoudig een nieuwe plant toevoegen. Je geeft de plant een naam, een foto of afbeelding, en selecteert de periodieke zorg. Hierbij kijk je naar wanneer en hoeveel water je de plant wil geven, wanneer je de plant voeding wil geven, en wanneer je de plant eventueel wil besproeien. Je kunt planten ook nog toewijzen aan een bepaalde groep, zo heb je bijvoorbeeld alle planten in de woonkamer bij elkaar gekoppeld. Alle elementen zijn handmatig in te vullen, en kunnen dus compleet naar wens ingevuld worden. Zo heb je met een paar minuten alle planten in de app staan.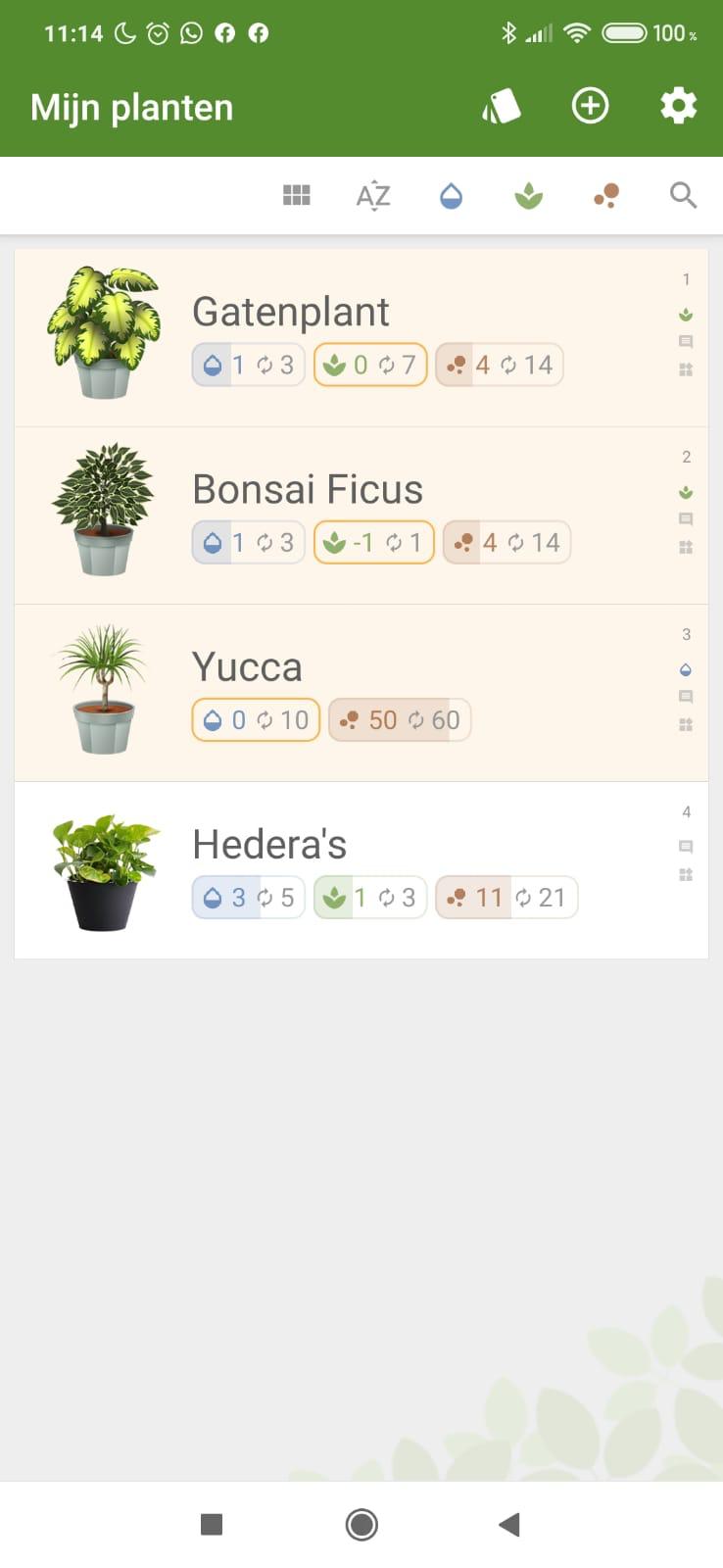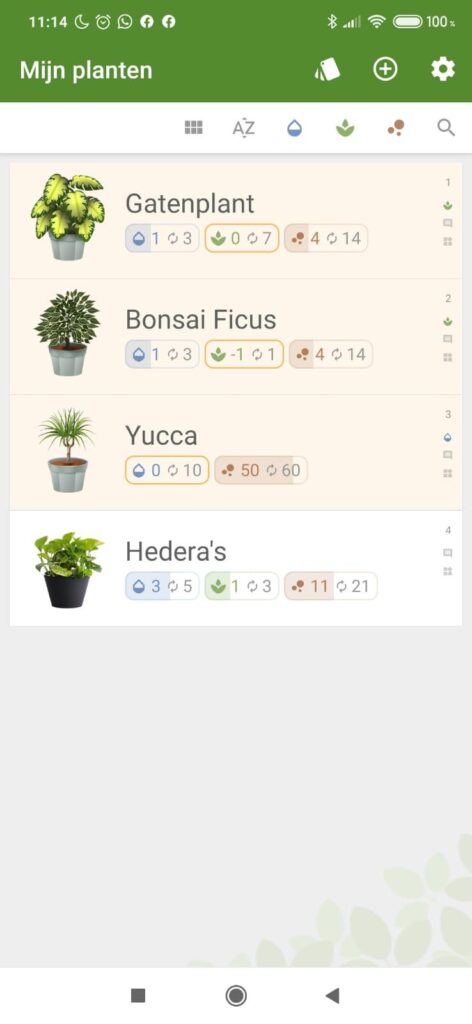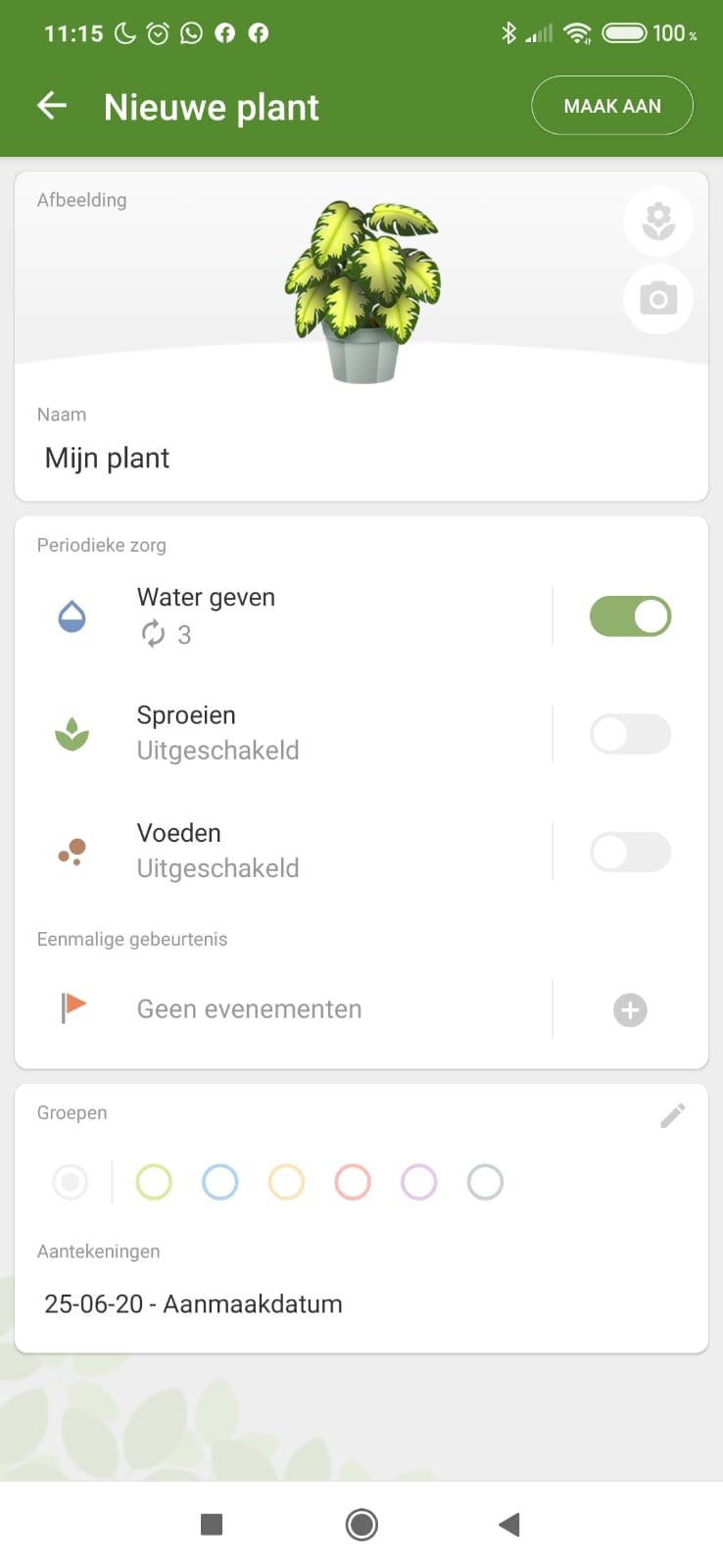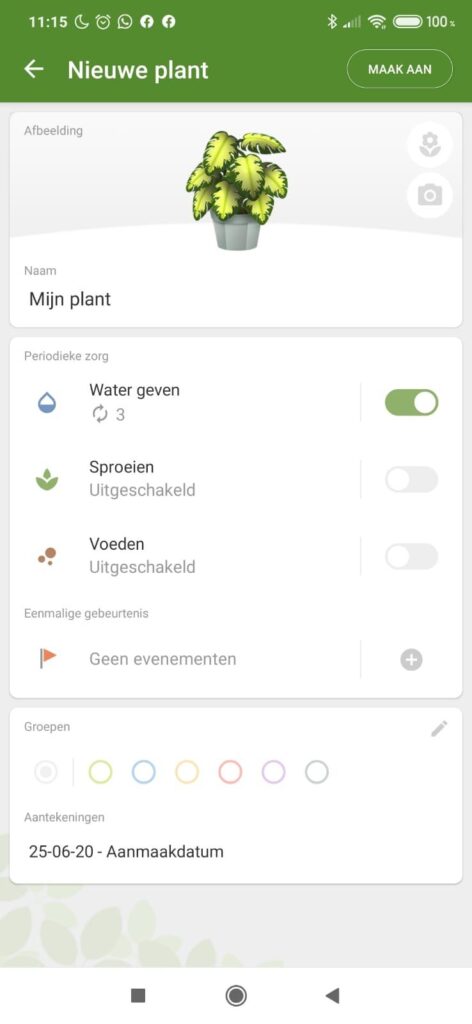 Onder het kopje 'mijn planten' staat vervolgens een handig lijstje met de door jou ingevulde planten, met naam en een foto/afbeelding. Je kunt per plant nakijken welke zorg je aangegeven hebt. Je kunt deze voorkeuren natuurlijk ten alle tijden nog aanpassen in de Instellingen.
Je kunt in de instellingen tevens aangeven hoelaat je deze meldingen wil ontvangen, welke meldingen je wil ontvangen (water/sproeien/voeding) en of er rekening moet worden gehouden met een speciale winterverzorging.
Dit overzicht kan ook als widget op de telefoon worden ingesteld. Dan krijg je een leuk overzicht van je plantjes op het beginscherm van de telefoon.
Vergeet niet de app te openen en meldingen aan te zetten!
Nu kan het natuurlijk zijn, dat je ook met behulp van deze app(s) nog niet in staat bent om de plantjes in leven te houden. Zoals ik. Ik heb deze app enkele dagen terug op mijn telefoon gezet om deze te testen. Na een geweldige start moet ik toegeven dat ik de app al weer een paar dagen niet heb geopend. Ik was zelfs vergeten om de meldingen aan te zetten, oeps.

Volgens mij ben ik gewoon een hopeloos geval als het aankomt op het in leven houden van mijn plantjes. Wat natuurlijk ook niet helpt is dat mijn kat mijn planten opvreet… Hopelijk hebben jullie meer succes! Maar, nu het goede nieuws. IKEA verkoopt nepplantjes! Want ik wil gewoon een jungle in huis, zonder er aan te hoeven denken. Dus raad waar ik binnenkort weer eens heen ga?