5 manieren voor bloggers om meer mensen op je mailinglijst te krijgen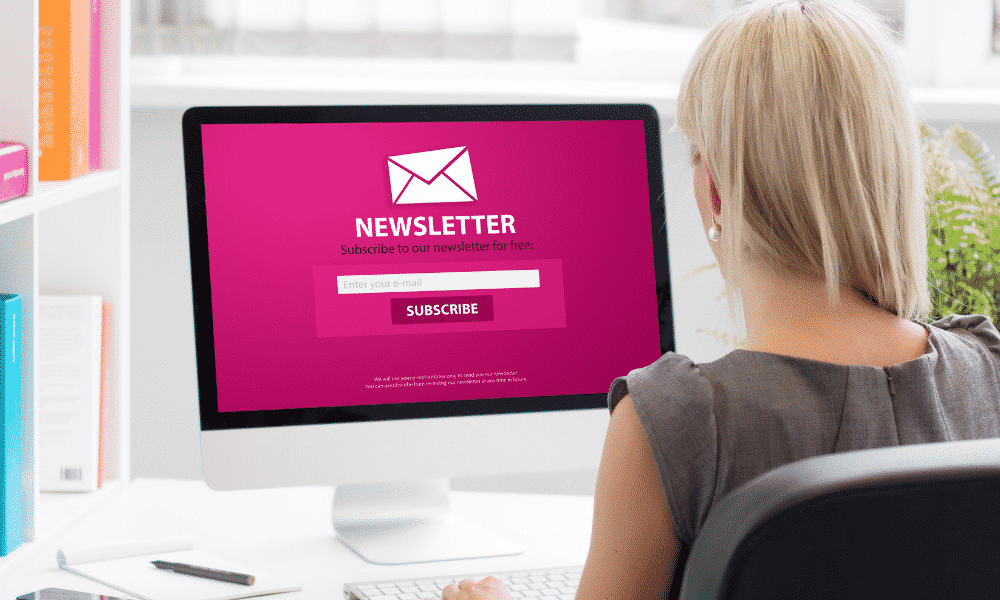 Hoe meer mensen je op je mailinglijst hebt, hoe beter je je blog kan laten groeien en er inkomsten uit kunt genereren! Het lijkt misschien onmogelijk om in deze tijd je mailinglijst nog te groeien, want is mail niet dood? Toch zijn er genoeg dingen die je kunt doen om het aantal abonnees op je mailinglijst te vergroten. Ik heb 5 ideeën voor je!
Geef waardevolle goodies aan mensen die zich aanmelden
Er zijn drie redenen waarom ik me aanmeld voor een nieuwsbrief:
Ik vind de blog zo interessant en grappig dat ik bijna obsessief word en ik echt alles wil weten van deze persoon;
Ik krijg korting op producten in de webshop, al is het maar 5%;
Ik test iets voor een blogger en meld me dus aan voor de nieuwsbrief, want ik moet zeker weten of alles goed werkt.
De meeste mensen zullen om de 1e of 2e reden lid worden. Dat is top: door iets van waarde te bieden, komen mensen op je maillijst. Soms is het enkele procenten korting op een product, je kan ook denken aan een samenwerking met een bedrijf wat past bij jouw doelgroep, of aan een e-book of iets anders. Het is het zogeheten lokkertje en hoewel dat wellicht klinkt alsof je per sé altijd maar bezig moet zijn met mensen lokken, is dat iets waar je je overheen moet zetten. Je bent mensen niet aan het lokken, je geeft ze iets van waarde. In ruil daarvoor geven ze jou hun e-mailadres. Jij moet nu vooral zorgen dat mensen op jouw mailinglijst blijven!
Zorg voor een goed mailprogramma
Nieuwsbrieven verstuur je niet vanuit je eigen e-mailadres door alle mailadressen in de bcc te zetten. Wat als je ooit groter wordt dan 10.000 e-mailadressen? Of 500. Of 1000. Al die e-mails handmatig instellen, is rampzalig. En dat niet alleen, de kans dat je mailprovider je gaat zien als spammer, is behoorlijk groot. Je hebt een goed e-mail mailing programma nodig.Denk hier niet te lichtzinnig over! Voor de meeste e-mail mailing online programma's betaal je een maandelijkse of jaarlijkse bijdrage. Nu baal je wellicht, want voor je gevoel levert je mail je niets op. Niets is minder waar. Mails zijn goed waard. Deze mensen hebben de moeite genomen om hun mailadres aan jou te geven, om op de hoogte te blijven. Het is een klein beetje zoals de social media volgknop, alleen beter. Want de mails zijn in jouw beheer! Als Facebook of Instagram minder populair worden of een storing hebben, kun jij nog altijd de mensen op je maillijst benaderen!
Want wist jij dat er dagelijks meer dan 240 miljard mails worden verzonden? Mails zijn belangrijk en blijven belangrijk!
Wees persoonlijk
E-mail is veel persoonlijker dan social media. En toch voelt het voor mensen afstandelijker. Je moet eruit springen en dat betekent niet dat je dagelijks 100 mails verstuurt waarin je je producten aanprijst. Probeer een band op te bouwen met je lezers en dat betekent dat je dus best persoonlijk kan worden in je mails. Bepaal wat je wel op je website deelt en wat er in je nieuwsbrief komt. Onderdelen die niet zo interessant zijn voor SEO, maar wel voor je lezers? Leuke voor je nieuwsbrief. Of wellicht zijn er artikelen die wel interessant zijn voor SEO, maar kun je je nieuwsbrieflezers de informatie eerder geven.
Stel een vraag aan het einde van een blogpost met gerelateerde informatie die je in je nieuwsbrief bespreekt
Heb je een controversiële blogpost of is het een blogpost waar je bijvoorbeeld de meningen van mensen wil, maar niet per sé in het artikel zelf? Laat ze mailen! Of wellicht geef je nog veel meer informatie over een bepaald onderwerp in een mailfunnel. Laat mensen hier dan op inschrijven. De mensen op je nieuwsbrief willen graag een band met je opbouwen.
Kom erachter waarom mensen zich aanmelden en geef ze die informatie
De allerbelangrijkste: mensen melden zich vaak niet aan omdat ze het jou gunnen. Ze melden zich aan voor je nieuwsbrief omdat jij hen iets van waarde geeft. Als ze het gevoel hebben dat jij niets meer voor ze hebt, verdwijnen ze weer. Zorg dus dat ze blijven. En dat doe je niet door de uitschrijflink te verbergen. Dat doe je door waarde te blijven bieden. Zo hebben mensen zich bij ons aangemeld omdat ze meer informatie willen over SEO voor bloggers. Zodra we die informatie niet meer bieden, zijn ze weg. Houd dus je statistieken in de gaten en: nieuwsbrieven schrijven maar!